Welcome to BurgerBum
If you're here to learn about Madagascar, here's pictures and commentary from my one month sabbatical there.
---
By popular demand, here's my Costco diet. Yes, you will lose weight.
It took me twenty minutes to figure how to pipe STDERR through a command and leave the output still on STDERR, so here's how to do it under bash.
I couldn't find a V&H class for python, so I wrote one. If you need it, please feel free to use it.
---
My thoughts on Borange, the only word in the English language which rhymes with Orange.
---
A little song for young network engineers:
Octet, Applet, UDP;
Public, Private, TCP/IP.
SSL, FTP,
SNA, BGP.

I've learned all 'bout nets today.
Now I'm a CCNA.

And more substantively, here's an IP Calculator.
---
As requested by coworker Brian Glover, here's a fragment of my stageplay, The Twelve Days of Programming with massive appologies to bardly Bill Shakespeare. To those who object, I refer you back to Brian, for I conformed to the parameters of his task.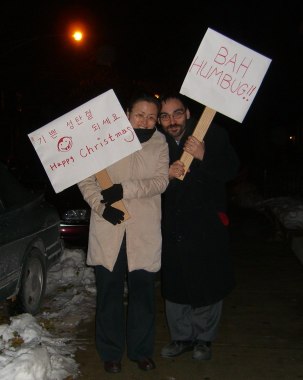 ---
Sorry, you can no longer get Networking for English Majors at Target and at Amazon.com -- I've decided to stop selling it, as the economy has changed so much that some of the advice in the book is now not correct. Small ISPs are largely a thing of the past. Most of the book is still current and correct, but the job path I describe is not such a clear and obvious way to get in the professional world, anymore. Welcome to a world where everyone has a cable-modem.

---